I'm finally getting around to writing about my experience in motorizing the Lego Technic 42075 First Responder. This is a truck-like vehicle, similar in form to the Lego Technic 8081 Extreme Cruiser, but on a smaller scale. I've previously put an EV3 brick and motors on the 8081 Extreme Cruiser documented here and here. When the smaller 42075 First Responder came out last year (2018), it looked like the space of the truck bed was just enough to put an EV3 brick, and I can surely find some space around the cabin to put the EV3 motors.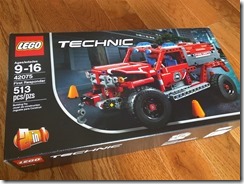 One of my goals in motorizing the First Responder is to keep as short as possible the list of Lego pieces that are not part of the First Responder retail set. Of course, the EV3 brick and two EV3 medium motors are necessary to provide the basic engine and steering control, but there were additional Lego pieces, such as extra gears, needed to completely attach the brick and motors.
Motorizing the set with EV3 required a very minimal set of extra pieces. There are only the four knob wheels which provide a 1:1 gear ratio with 90-degree directional changes, and an extra axle (shown later below to attach the engine motor).
From the retail build, remove the pieces comprising the canopy and truck bed; these pieces will be re-used in the following steps to attach the brick and motors.
Re-attach one of the gears that will be used for the steering mechanism. Add the frame extension that will be the base for mounting the engine motor.
Turning the vehicle over, attach the first in the chain of knob wheels by using the extra axle. This attaches to the differential for the rear wheels that comes as part of the retail build. Also continue building up the frame extension for the engine motor mount.
Complete the chain of knob wheels that ends up under the engine motor mount on the right side (passenger side) of the vehicle.
Rebuild the canopy with the steering motor in the middle interior of the vehicle, lined up to the gears that drive the steering mechanism. The driver seat from the retail build can be retained. Mount the EV3 brick upon the truck bed.
Finally, attach the engine motor vertically to the axle that jaunts up on the passenger side. Additional pieces are used to secure both the steering motor and engine motor.
With the same nodejs program I used with the 8081 Extreme Cruiser for remotely controlling the EV3 brick through Bluetooth, I note that the chain of knob wheels provide a very stable gear train for running the EV3 motors. There is hardly any slippage on the gears.