It's April already, and I've so been itching to write about one of the toys we've bought over the holiday season (yes, three months ago).  The Kodak W820 is an 8-inch digital picture frame.  I wasn't a fan of digital picture frames before, but when I saw the item go on sale for more than 50% off in an online store, I thought I'd give it a try.  Sure glad I did.  The next two months after we bought it, it had always been out-of-stock from most stores.
The resolution is lower compared to high-end digital picture frames, but still enough for the casual living room picture frame.  It has the standard memory card slots and USB connector so you could pretty much attach any storage device to view the contained media.  User interface navigation is performed via some sensors around two of the frame borders.  Not a real touch-screen interface, but useable enough for me.
It plays audio and video!  Audio files can be played by themselves or set as background music for slideshows of your pictures.  It plays all the video file formats that I use from my personal video collection.  It sort of performs as an additional 8" DVD player (loading the video from a memory card rather than a DVD disc), so my older portable DVD player is now seeing less use.
What really sets it off from other digital picture frames is its WiFi capabilities.  Out-of-the-box, you set up the WiFi SSID like any other device, and you can instantly connect to certain provided services.  You could connect to a weather service, a news service, a sports services, and even subscribe to Flickr albums.  The services are provided as "channels" through FrameChannel.  Once you register a free account in FrameChannel, you could subscribe to additional channels, which can vary from great photography channels to cooking recipe channels.
Aside from the weather channel, the most useful channels we've added are the Facebook photo channel and a custom RSS feed channel.  The Facebook photo channel monitors pictures posted by yourself or your friends and streams them to your digital picture frame.  The custom RSS feed channel monitors an RSS feed, such as your Facebook status page or any blog RSS feed, then streams the summaries down to your picture frame.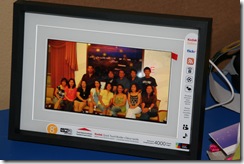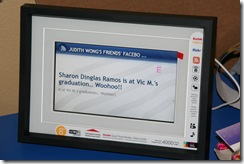 There are only a few other digital picture frames (mostly with lesser known brands) that connect to FrameChannel, and I'm glad Kodak decided to utilize the service.
A lesser-known feature of the Kodak W820 is that it can reach out to your UPnP media servers and retrieve pictures, music, and videos from there.  I store all my digital media at home in a central UPnP server for streaming to my media player, so I could play them on TV.  The Kodak W820 becomes an additional media player that you can place anywhere in the house.  I do not actually have any media loaded in its internal memory, and just retrieve pictures from my media server.  Although I do not export any media from my Windows 7 computer, the Kodak W820 sees a Windows 7 machine as a media server as well.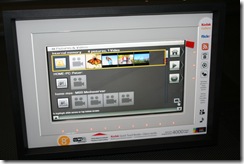 The Kodak W820 is again available from the Kodak store.  There's now also a new Kodak PULSE, which looks more stylish than the W series, and has a real touch-screen interface.  It's a tad smaller at 7", has no video and audio playback capability, and I'm not sure it could connect to FrameChannel or UPnP media servers like the W820.