One of the best expansion cards to place in an Apple IIgs is a SCSI card.  A SCSI card allowed mass storage devices to be connected to the Apple IIgs back in the `90s.  This includes hard drives and optical drives.  GS/OS understands the ISO 9660 file system, so I tried connecting my SCSI DVD-ROM drive.  Sure enough, the directory appears in Finder.  Since I was using a double-layer DVD (most DVD movies are on double-layer discs), the capacity of the disc should have been around 8GB, and the directory listing shows six files of 1GB each.  I guess the 4GB value limit of a 32-bit integer shows and Finder displays that only 3GB is used.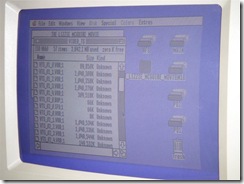 It was in the early `90s that multimedia CD-ROMs started to appear.  Encyclopedia CD-ROMs became popular with the PC platform.  One of the indexing formats used for these CD-ROMs is the discPassage format.  To take advantage of these CD-ROMs, a software package sold by Sequential Systems was discQuest, written by Jawaid Bazyar of GNO/ME fame.  I installed the software, purchased an old discPassage-based CD-ROM on eBay, and was wallowing in CD-ROM multimedia joy with the IIgs.  Unfortunately, the discPassage format did not last long and there's only a handful of titles that made use of it.  I don't think any multimedia titles nowadays use it.
Since I was playing with the SCSI stuff anyway, I decided to purchase a cheap floptical drive on eBay.  Floptical disks are removable disks that have a capacity of 20MB.  I salvaged an old SCSI drive enclosure to hook up the drive.  I didn't have any floptical media, but for those who remember, floptical drives were meant to provide compatibility with the standard floppy drives.  I inserted a regular 1.44MB DOS-formatted diskette, and sure enough, GS/OS's MSDOS FST recognized the disk and allowed me to copy the contents of the diskette to my hard drive.
For those who are fortunate enough to have a SCSI card, but not have the hard-to-find 3.5" Drive Controller Card, this can serve as an alternative to reading files from DOS-formatted diskettes.  You won't need an older Mac to serve as an intermediary in order to transfer files from your PC to the IIgs.