Last summer, I started to teach my kid about building with Lego Technic, particularly using the EV3 Mindstorms set.  Though she had been building with non-technic Lego bricks for years now, the Technic pieces involve a different mindset, dealing more with beams and pins rather than bricks and studs.
One of the original constructs from Claire is this dog head that we attached to a mini robot we built from one of the Lego books we have: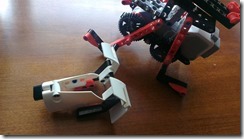 The robot was from Yoshihito Isagawa's Lego Mindstorms EV3 Idea Book, but the head was Claire's original design.